2021 Spring Practical Primer on Pesticides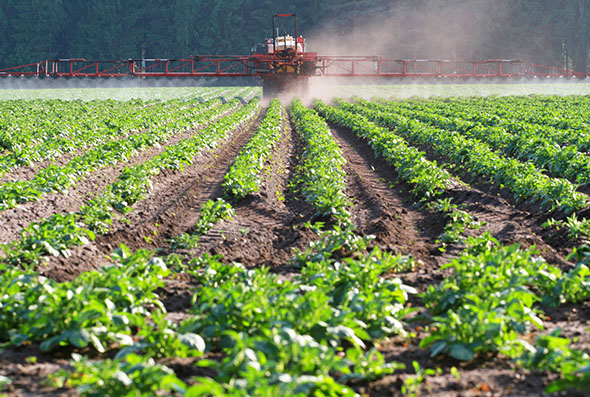 ©2023 Keller and Heckman LLP
Image

We are excited to announce that registration is now open for Keller and Heckman's Spring Practical Primer on Pesticides! 
This comprehensive course on the regulation of pesticides is designed and presented by the attorneys and scientists of Keller and Heckman LLP, who discuss pesticide regulation at the federal and state levels and from the legal and scientific perspectives. Learn about FIFRA and EPA's rules and procedures governing pesticide registration, labeling, production, import/export, and other new developments in the ever-changing landscape of pesticide regulation.
The virtual platform we have chosen will closely replicate the interaction and dynamics that are experienced at our in-person seminars, including opportunities to "chat" with the speakers one-on-one, network with colleagues, participate in discussion forums, and much more!
Seminar Details:
DATES
Tuesday, May 25 - Wednesday, May 26, 2021
REGISTRATION FEES
Early-Bird Registration Fee: $649 if registered by April 23, 2021
General Registration Fee: $849 if registered after April 23, 2021
GROUP DISCOUNT
Register three or more people from the same company and receive 10% off the total registration fee. Contact Abby Ntalamu at ntalamu@khlaw.com for instructions on how to receive the discount.
LARGE GROUP DISCOUNT
If you anticipate having eight or more attendees register from your company, please contact Abby Ntalamu at ntalamu@khlaw.com for more information.
CONTINUING LEGAL EDUCATION
CLE credits will be available, pending state approval.
CERTIFICATE OF ATTENDANCE
All seminar attendees will be eligible to receive a certificate of attendance upon completion of the course.
CANCELLATION POLICY
Cancellations are accepted and registration fees are refunded if notice is received by April 23, 2021. If notice is given after April 23rd, no refunds will be granted; however, substitutions are welcome.
For questions concerning the 2021 Spring Practical Primer on Pesticides, please contact:
Abby Ntalamu
Marketing and Events Coordinator 
Keller and Heckman LLP
ntalamu@khlaw.com
---
Image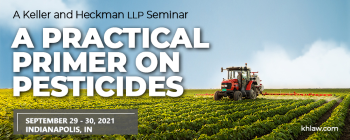 This year's Fall Practical Primer on Pesticides will be held from September 29 - 30, 2021 in Indianapolis, IN. Mark your calendars now!